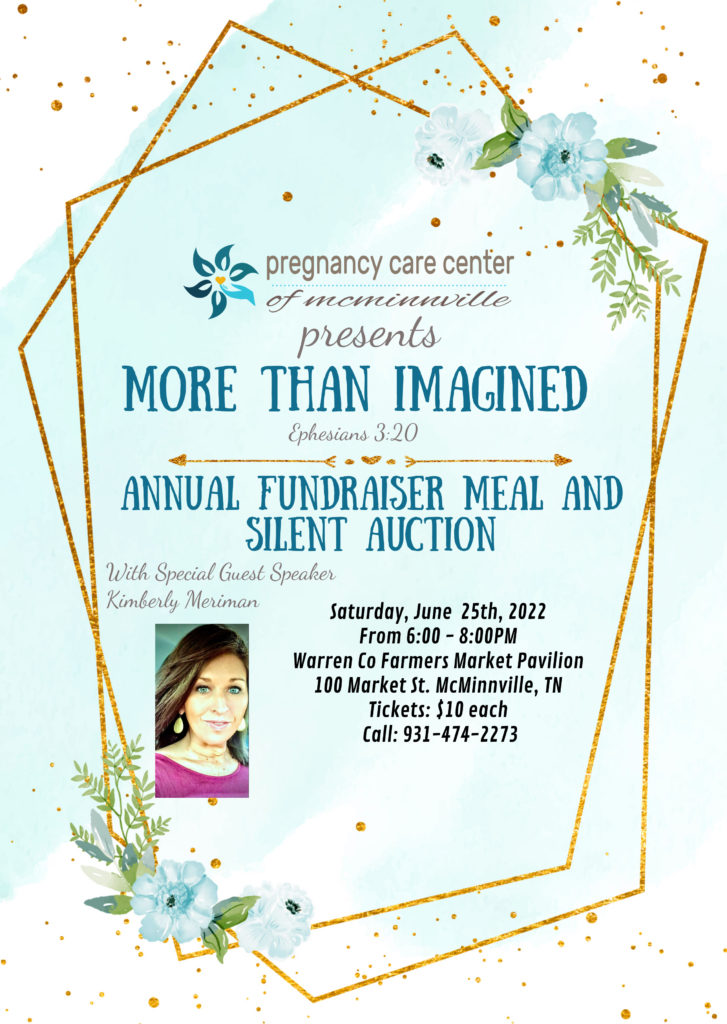 Pregnancy Care Center of McMinnville is thrilled to announce our first annual meal and silent auction fundraiser, More Than Imagined. This event will be held Saturday, June 25th at the Warren County Farmers Market Pavilion (100 Market St. McMinnville, TN) at six o'clock in the evening. Our guest speaker will be local resident and Life Choices Executive Director, Kimberly Merriman.
Tickets for this event are $10 per person. This ticket will secure your seat, a steak dinner and your silent auction number. Ticket sales will be closed at midnight, Saturday, June 11th. Silent auction items will be purchased and leave (as is) with the highest bidder the night of the event. Pregnancy Care Center of McMinnville will accept cash, checks or you can pay digitally with our PayPal QR code.
If you would like the opportunity to get involved with this event, we have many options available. The first option is to become a table sponsor (a donation of $125), which will provide PCCM with the resources it needs for the arrangements and setting up of one table. Your name/business name will be part of the center piece for that table. You will not be required to provide guests for that table, as PCCM will sell tickets to fill the seats. Another option is to sponsor the table and invite six guests to attend and sit at your table (a donation of $185). Your name/business name will also be part of the center piece for that table and the seats at that table will be reserved in the sponsor's name. Table sponsor sales will be closed at midnight, Saturday, June 11th.
The third way to get involved in our fundraiser is to donate items to the silent auction. We are happy to receive any services, new items or experiences you wish to donate to our cause with a value of $50 or more. Churches, civic groups and families are more than welcome and encouraged to pull resources to create a one-of-a-kind auction donation. Themed baskets are a great idea for community groups. If your group would like ideas for themed baskets, please call or email PCCM (931-474-2273 or pccmbmc2020@gmail.com ). All auction items can either be picked up by PCCM volunteers, or dropped off at our office on Saturday, June 18th from 10am-2pm.
We at PCCM are so excited to host this fundraiser and look forward to seeing what we can do as a community when we come together and put the needs of precious families as our main focus for this evening. We are certain it will be "More Than Imagined".
To purchase tickets or sponsor tables, you can mail a check to PCCM, 308 N Spring St., McMinnville, TN 37110 or you can simply scroll to the bottom of this page and click on the "donate" link which will direct you to our PayPal page. Please specify, either with your check or PayPal payment if you are a sponsoring a table, sponsoring a table with guests, or if you're ordering tickets. Please give the name(s) of whom the ticket(s) are to be issued. You can pick your tickets up at will call the night of the event.
First Baptist Church of McMinnville will offer child care services (infant- 5th grade) for parents attending the event for a fee of $7, with an option of an additional $3 for a pizza dinner. Space is limited. To register, please go to https://fbcmcminnville.churchcenter.com/registrations/events/1272075.